WEBSITE DESIGN
RESULTS ARE ACHIEVED WITH DATA DRIVEN STRATEGIES

WEBSITE DESIGN
RESULTS ARE ACHIEVED WITH DATA DRIVEN STRATEGIES

An EFFECTIVE, clean web design will attract new customers, increase conversions and ultimately sales. If you are looking for a new web design or a redesign of an existing site, our interactive team will create a website design to help you achieve your business goals. Our process has been finely tuned over many years of customer interaction and feedback. We continue to strive to deliver the highest customer satisfaction and the best results for your business.
Say good-bye to the expense and worry of paying a web designer to update your online business. Interactive Builds utilizes a Content Management System, which means that you can update your own website, without any web development experience. If you'd like to save money and gain control, learn about our proven system that integrates content management systems.
A great website design is one of the most effective ways to bring results to your business. Our website design services can add value to your business, whether you are in Colorado or another location around the world. We create websites that can help.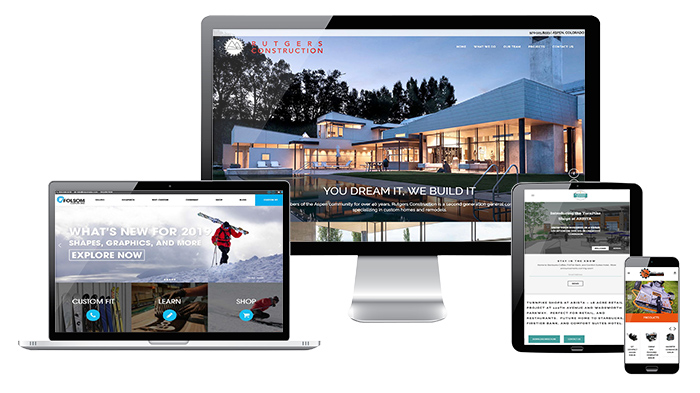 If you're tired of erratic results and time-wasting sales efforts, it's time for a well designed website to serve as an extension of your sales team. An effective website design takes on the grueling work of finding leads, so you can focus your energy on converting business, rather than searching for business.
Maybe your current website looks unpolished, or customers question whether you're legitimate. In either case, our websites can help you project a credible image… and that can help you turn potential buyers into customers. If your business is bogged down in administrative work, a well designed website can automate tasks in your workflow. That way, you're free to focus on other priorities.
At Interactive Builds, we take a strategic approach to website design. Our websites are customized to your specific needs, so they deliver tangible results ― from increased leads to significant time savings. In addition, our websites are search engine friendly, so prospects can find you. They also load quickly, improving the likelihood of visits.
Our websites are more than works of art. We take our website designs seriously, and make sure each delivers the following plus much, much more:
All of our websites are built from scratch with HTML5 and CSS3 (cutting-edge web technologies), helping you stay up to date and making our websites easier to maintain. Our code is compressed, optimized, and minified to reduce server requests and page load times. So basically our websites load quickly. Each web page is structured in a way that makes sense to search engine crawlers. Our websites show up high in search results. Our websites are designed to be accessible to visually impaired users, and to those without JavaScript, CSS, or images enabled. Our websites are accessible to more people.
WHAT OUR CLIENTS THINK ABOUT OUR WORK
We used Interactive Builds for our new mobile-friendly Wordpress theme. Brad was great to work with and the turnaround was quick. I would recommend Interactive Builds for anyone looking to design or upgrade their website.
Interactive Builds redesigned our website in Q-1 2016, with a goal to have it completed before the end of the quarter. Not only did they meet all of our design expectations, but they also met our strict deadline. Now, everyone is loving the new website!
Great, professional work. Fast. Very affordable. Arc Capital Development has partnered with Interactive Builds to support our clients and to improve our own site. Highly recommend!
We'd love to learn about your business and chat about ours, what we have to offer and the process in which we utilize.